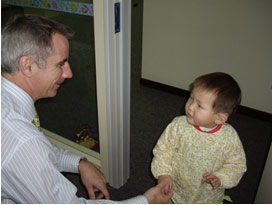 Andrew Kendrick has worked extensively in the field of Auditory-Verbal Therapy over the past 24 years. Andrew's work as therapist, consultant, lecturer, and publisher has given him the opportunity to live and work in Australia, Singapore, and China.
During this time Andrew has gained significant experience in working with children, parents, teachers, therapists, audiologists and other related professionals across cultures.
In Singapore he was director of a Cochlear Implant Program. As Program Development Manager for The Shepherd Centre, a large non government auditory-verbal intervention centre in Australia, he established an internal training and mentoring program and external professional development courses as well as accountability across the organisation for children's outcomes. Across North East Asia he has been responsible for developing infrastructure including establishing teacher training in Auditory-Verbal Therapy and developing resources that support recipients as well as coordinating research.
Andrew has presented and lectured extensively at national and international conferences across Asia Pacific.
Andrew is a certified Auditory Verbal Therapist and in 2004 -2007 served as a committee member on the Auditory Verbal Certification Committee whose responsibilities include reviewing the auditory verbal exam, assessing exam candidates in terms of habilitation proficiency and supervising the exam.  The Auditory Verbal Certification Committee sits within the A G Bell Academy.
Andrew currently supports Cochlear Ltd's Re/Habilitation initiative and strategy across Cochlear's Global outreach as the Global Rehabilitation Manager.