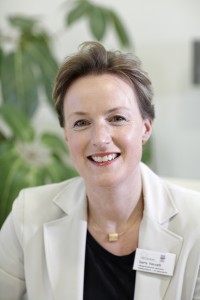 Doris Vercelli is a hearing acoustician, children's acoustician and CI specialist.
At the source of her more than 25 years of involvement with hearing impairment were the 18 months she spent in the USA with a family that had a hearing-impaired child. For Mrs. Vercelli this meeting was a powerful incentive for what was to happen next.
During her three-year study for the degree of hearing acoustician, Doris worked in some of the first pediatric hearing centers, and in a children's clinic in Datteln. From 1992 she was actively engaged in the creation of a hearing acoustics unit at the Westfälische Wilhelms Universität in Münster. She spent five years there in the Department for phoniatry and pedaudiology, where she was part of the CI team responsible for audiological diagnostics as well as the programming of speech processors. All the while she was participating in studies initiated by well-known producers of hearing devices.
Following that, Doris was employed for five years first in the company Danavox, and then in GN ReSound. 2005 was the year that she initiated the founding of the hearing center of Münster. Simultaneously she is the owner and CEO of Hammerstraße GmbH, which includes three speciality shops and a children's hearing center. Early in 2011 Doris opened the Hearing implant center of Münster, which has since offered highly successful remote care services in cooperation with the Hanover Medical College, a globally leading ENT clinic, and its German hearing center. The first jointly created remote care center is the result of a pilot project, and stands as an exemplary institution for the future of remote care in Germany.