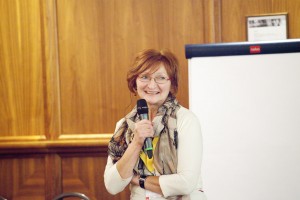 Ms. Joanna Kosmalowa, M.A., Ph.D. – Psychotherapist, Counselor, Educator and specialist in group work.
Graduated from the Warsaw University in 1973 (major in Polish Language and Literature), doctoral studies and dissertation in pedagogics in 1987. In 1998 completed post-graduate studies in public administration and special education at the George Washington University in Washington D.C., USA – East Central European Scholarship Program (ECESP). 2001 – 2005 – post-graduate studies in psychotherapy and psychoeducational training in Warsaw and Cracow.
Counselor for families with hearing impaired children  and for specialists working in the area of therapy and rehabilitation of hearing impaired children. Has been involved in development and perfecting of the system of care of hearing impaired children and their families the whole professional life, that is for over thirty years. 1995 – 2006 employed at the Institute of Physiology and Pathology of Hearing as the member of scientific and research team and counselor and at the same time as academic teacher at the Academy of Special Education. Has given numerous courses and lectured at scientific national and international symposia, workshops and conferences. Published a number articles in scientific journals in Poland.
At present – trainer at the Polish Psychological Society and Gestalt  psychotherapist offering individual and group psychotherapy, personal-growth groups and experiential groups, groups for women, support groups for parents with impaired children. Provides trainings and has thorough clinical experience working with families with deaf and hard of hearing children.