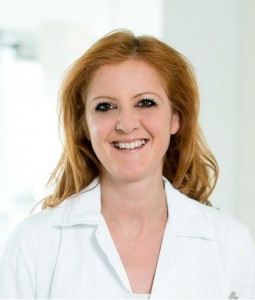 We are looking forward to the webinar with Dr. Wolf-Magele on March 8 2015, and the forum discussion  on March 22 2015!
Dr. Astrid Wolf-Magele started her training as ENT specialist in June 2007 at the Department of Otorhinolaryngology-Head and Neck Surgery. Before that she finished her training as General Doctor in May 2007. Successfully she completed her residency in September 2011 at the University hospital in Innsbruck.
Now, since March 2013, she has been working as a specialist at the ENT department at the University clinic St.Poelten. Her interests are focused on Otology and Neurotology.
In addition to general surgeries in the ENT, she does mainly general ear surgeries, cochlear implantations, and implantations of bone conductive hearing aids (transcutaneous and percutaneous).
Since January 2015 she is the head of the "Hearing impaired program" of St.Poelten.
She is member of the Otology group of Prof. GM Sprinzl since June 2008. Her main research interests are in clinical trials in the field of hearing implants. She pays special interest to sound localization and speech perception in bilateral users of Vibrant Soundbridge. Another main topic is elderly patients suffering from presbyacusis, and quality of life studies from patients aided with hearing implants.
In addition, she works in the Neurotology team, focusing especially on the rehabilitation of patients with cochlear implants and also on vertigo in adults and children after implantation of CIs.
Personal Data:
Born on 16th May 1977 in Wolfsberg, Carinthia, Austria
Nationality – Austria
Academic Preparation:
Habilitation / Medical University Vienna, Department of heart and thoracic surgery, June 2003
Thesis: Survival in patients with non small cell lung cancer after induction therapy followed by surgical resection
Board Certification for General Medicine:
Austrian Medical society, May 2006
Board Certification for General Otorhinolaryngology:
Austrian Medical Society, September 2011
Employment history:
Scientific officer at a Rehab hospital (specified at rheumatologic disease) 08-12/2003
Internship as a general practitioner at eh LKH Salzburg, Austria;
Medical University Innsbruck, Austria 01/2004-05/2007
Resident training, Department of Otorhinolaryngology Medical University Innsbruck, Austria 06/207-09/2011
Education:
Primary school, Wolfsberg, Austria 1983-1987
Secondary school, Wolfsberg, Austria  1987-1991
Vocational school for Kindergartenteacher, Klagenfurt, Austria 1991-1996
Study of medicine at the University of Vienna 1996-2003
Present working experience:
Scientific staff at various clinical trials
Co- Investigator in two Phase III Clinical studies
Several scientific presentations at diverse medical congresses on the
basic of research work in the otology team
Tutor in the educational programs for surgeons and different
Temporal bone Labs from Prof. Sprinzl, Innsbruck, Austria
Trainer at nurse's training school, Innsbruck, Austria
Further Competences:
Participant at the Temporal bone lab, Medical University, Vienna, Austria
Surgical Training in Septoplasty and Functional –Aesthetic-Rhinoplasty, Ulm, Germany
Surgical Training in Endoscopic Nasal and Paranasal Sinus Surgery, Graz, Austria
Training as audiological Assistant, Hearing Implant Academy Med-El, Innsbruck, Austria
Training in Ultrasound / Abdomen / Neck, Salzburg, Austria
Practical training: Hospital Bundaberg, Queensland, Australia, 2 month
Hospital Kibosho, Tanzania, Africa, 2 month
Computer skills: Proficiency in common software applications
Mother language:  German
Foreign languages: English, Italian
Current Research Interests:
Active Middle Ear Implants in Children
Active Middle Ear Implantation in Atretic Ears
Music Perception in Active Middle Ear Implant recipients
Long-term Results with the Glasionomer Cement as a Fixation of the FMT
Long-term Results of the bone conduction threshold after Active Middle Ear Implantation
A New Bone Conduction Hearing Device – The Vibrant Bonebridge
Cochlear Implants in Older Adults
New Fixation Method with the Concerto Pin Cochlear Implant
Active Middle Ear Implantation and intraoperative Measurements on     the animal model -sheep
Minimal invasive surgery for Cochlear Implantation in children
Publications:
Post-operative changes in telemetry measurements after cochlear implantation and its impact on early activation.
Wolf-Magele A, Schnabl J, Edlinger S, Pok SM, Schoerg P, Sprinzl GM.
Clin Otolaryngol. 2015 Feb 16. doi: 10.1111/coa.12391. [Epub ahead of print]
Intraoperative Measurement for a New Transcutaneous Bone Conduction Hearing Implant.
Schnabl J, Wolf-Magele A, Pok SM, Schoerg P, Hirtler L, Schloegel M, Sprinzl G.
Otol Neurotol. 2014 Apr 17. [Epub ahead of print]
Evaluation of a minimally invasive surgical fixation technique for young children with the Concerto Pin cochlear implant system.
Schnabl J, Wolf-Magele A, Pok SM, Url C, Zorowka P, Sprinzl G.
Eur Arch Otorhinolaryngol. 2014 Mar 23. [Epub ahead of print
Active middle ear implant after lateral petrosectomy and radiotherapy for ear cancer.
Cristalli G, Sprinzl GM, Wolf-Magele A, Marchesi P, Mercante G, Spriano G.
Otol Neurotol. 2014 Apr;35(4):e146-52. doi
Neuropsychological profile of children after an episode of neuroborreliosis.
Zotter S, Koch J, Schlachter K, Katzensteiner S, Dorninger L, Brunner J, Baumann M, Wolf-Magele A, Schmid H, Ulmer H, Hagspiel S, Rostasy K.
Neuropediatrics. 2013 Dec;44(6):346-53. doi: 10.1055/s-0033-1349724. Epub 2013 Aug 6.
Standards of practice in the field of hearing implants.
Van de Heyning P, Adunka O, Arauz SL, Atlas M, Baumgartner WD, Brill S, Bruce I, Buchman C, Caversaccio M, Dillon M, Eikelboom R, Eskilsson G, Gavilan J, Godey B, Green K, Gstoettner W, Hagen R, Han D, Iwasaki S, Kameswaran M, Karltorp E, Kleine Punte A, Kompis M, Kuthubutheen J, Kuzovkov V, Lassaletta L, Li Y, Lorens A, Manikoth M, Martin J, Mlynski R, Mueller J, O'Driscoll M, Parnes L, Pillsbury H, Prentiss S, Pulibalathingal S, Raine CH, Rajan G, Rajeswaran R, Riechelmann H, Rivas A, Rivas JA, Senn P, Skarzynski PH, Sprinzl G, Staecker H, Stephan K, Sugarova S, Usami SI, Wolf-Magele A, Yanov Y, Zernotti ME, Zimmerman K, Zorowka P, Skarzynski H.
Cochlear Implants Int. 2013 Jun;14 Suppl 2:S1-5. doi: 10.1179/1467010013Z.00000000093. No abstract available.
First European multicenter results with a new transcutaneous bone conduction hearing implant system: short-term safety and efficacy.
Sprinzl G, Lenarz T, Ernst A, Hagen R, Wolf-Magele A, Mojallal H, Todt I, Mlynski R, Wolframm MD.
Otol Neurotol. 2013 Aug;34(6):1076-83. doi:
Concerto Pin: a novel concept of cochlear implant fixation.
Schnabl J, Markl A, Hörmann R, Wolf-Magele A, Schartinger V, Sprinzl G.
Otol Neurotol. 2012 Dec;33(9):1525-9. doi: 10.1097/MAO.0b013e3182713958
Sheep as a large animal model for middle and inner ear implantable hearing devices: a feasibility study in cadavers.
Schnabl J, Glueckert R, Feuchtner G, Recheis W, Potrusil T, Kuhn V, Wolf-Magele A, Riechelmann H, Sprinzl GM.
Otol Neurotol. 2012 Apr;33(3):481-9. doi: 10.1097/MAO.0b013e318248ee3a.
[The active middle ear implant for the rehabilitation of sensorineural, mixed and conductive hearing losses].
Sprinzl GM, Wolf-Magele A, Schnabl J, Koci V.
Laryngorhinootologie. 2011 Sep;90(9):560-72. doi: 10.1055/s-0031-1286321. Epub 2011 Sep 12. German
Active middle ear implantation in elderly people: a retrospective study.
Wolf-Magele A, Schnabl J, Woellner T, Koci V, Riechelmann H, Sprinzl GM.
Otol Neurotol. 2011 Jul;32(5):805-11. doi: 10.1097/MAO.0b013e31821a41b
A comparison of outcomes after robotic open extended thymectomy for myasthenia gravis.
Cakar F, Werner P, Augustin F, Schmid T, Wolf-Magele A, Sieb M, Bodner J.
Eur J Cardiothorac Surg. 2007 Mar;31(3):501-4; discussion 504-5. Epub 2007 Jan 16