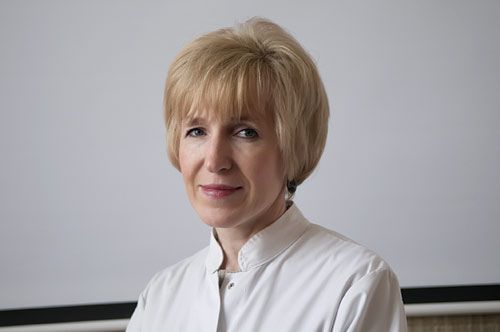 Mariya Boboshko is the Head of the Hearing and Language Laboratory at the science and research center of the Saint-Petersburg State I.P. Pavlov Medical University; she holds the degree of MD and is Professor of the Department for Otorhinolaryngology of the Northwestern State I.I. Mechnikov Medical University.
In 1981 Dr. Boboshko graduated cum laude from the 1st Leningrad I.P. Pavlov Medical University. In 1981-1983 she was a clinical intern at the Department for Otorhinolaryngology at the university, and went on to pursue a PhD degree there. In 1987 she defended her thesis "Materials for diagnostics and treatment of salpingootitis'; in 2006 her full doctoral thesis 'Pathogenesis, diagnostics and treatment of hearing tube dysfunctions' in speciality 14.00.04 – ENT diseases – followed.
From 1986 until 1991 M. Boboshko was Head of the ENT Department of the 1st LMU; from 1991 to 1993 she held the position of Assistant Professor of the Department for Otorhinolaryngology. In 1993-1994 she worked as an ENT doctor and Head of the ENT office of the Wunsdorf Central Polycnilic in Germany; from 1995 she was a surdologist and otorhinolaryngologist in the lab for hearing and speech, from 2007 she has been Head of the Hearing and speech laboratory at the I.P.Pavlov University. 2011 marks the beginning of her professorship at the Deparment for Otorhinolaryngology at the I.I. Mechnikov University. Dr. Boboshko is qualified in the highest category of medical personnel in otorhinolaryngology and surdology-otorhinolaryngology.
Dr. Boboshko is author of more than 100 published scientific papers, including the monograph 'The Hearing Tube', 'Pharmatherapeutical handbook for a surdologist-otorhinolaryngologist', 'Speech Audiometry' etc. Scientifically, her areas of interest include diagnostics of central hearing impairments, age-specific hearing loss, hearing prosthetics and adaptation to hearing aids, subjective ear noises, hearing tube pathology.
In 2011 Dr. Boboshko was named 'Woman of the Year' for science, St Petersburg.
Dr. Prof. Boboshko will make the presentation 'Milestones of Children's Speech and Language Development' on April 5 2015.